BIOGRAPHY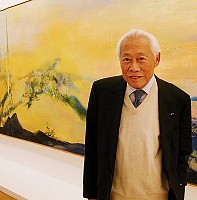 Zao Wou-Ki (Chinese b. 1921)
Zao (Zhao) Wou Ki combines Oriental landscape abstraction with French influence. He was born in Beijing on February 13, 1921, and from the age of ten, Zao drew and painted with great freedom. He learned from his grandfather that calligraphy is an art when it transmits an emotion to the person looking at it. At age fourteen he enrolled at the School of Fine Arts in Hangzhou, where he remained for six years. He studied and then taught at the Hongchow National Academy of Fine Arts. In 1942, he organized an exhibition of works by his teacher, Wu Dayu, along with some of his own.

In 1948, he moved to Paris where he has lived and worked ever since, although he has exhibited in New York City. He attended the Académie de la Grande Chaumière and lived at Rue du Moulin Vert nearby Alberto Giacometti's studio. Making the acquaintance of Hans Hartung, Nicolas de Staël, Pierre Soulages, Viera da Silva, Sam Francis, Norman Bluhm and Jean-Paul Riopelle, they often gather at the Galerie Nina Dausset, rue du Dragon.

By the end of 1957 he was working in abstract style. His "cypher-like signature"which he has used for over fifty years, gives his first name in Chinese characters and his last in a Western orthography. This signature represents the dual cultural heritage of "Chinese and European aesthetics, in which the language of modern Western abstraction is enriched by a Chinese sensibility rooted in the past (Jonathan Hay)."

His painting has evolved in stages. Abstraction followed his only extended stay in the United States, where he encountered Abstract Expressionism first-hand at the height of the movement. Until about 1972, Zao experimented with his style and technique. At one point he took up ink painting again, taking the skills he learned as a youth. Using this in the paintings of the mid- to late seventies, he created with a "softened, blunted mark making that fused image and space in a new, arguably more subtle way that recalls the alchemy of ink and xuan paper (Jonathan Hay)."

Around 1990, his compositions are dominated by saturated hues, largely using black. The paintings from 1993 to 2002 have rich, surfaces with pourings, spatterings, wipes, accretions, and marks of all sorts. He has also created canvases that are less worked and there is a "lightness of touch." Throughout each stage his knowledge of Chinese ink painting is visible in his oil paintings.

The artist has written an autobiography, detailing long-term and short-term emotional dramas. Most of his dramas have been directly related to his self-displacement from China to Paris.

Recently, Zao Wou Ki was elected to the Académie des Beaux Arts. The Académie des Beaux-Arts is the section of the Académie Française reserved to painters and architects.