BIOGRAPHY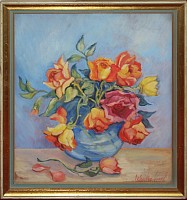 Valentine Vogel (American 1906-1965)

A portrait, landscape, figure, mural and abstract painter, as well as a wood block printer, Valentine Vogel attended Miss West's Private School in Saint Louis, Missouri, at the age of 2 1/2 and graduated from Principia High School at the age of 15, when she went to Washington University. She studied at the Art Institute in Minneapolis, Minnesota; the National Academy of Design in New York City; figure painting with Richard Miller and color with Hugh Breckenridge and Charles Hawthorne in Provincetown, Massachusetts. She also studied in Paris, France with Andre L'hote at the Petit Chaumier and the Grand Chaumier, and in Italy, at the American Academy in Rome. She was one of a few women ever admitted to the Academy. While in Rome, she lived at the palace of Prince and Princess Valm Wolkonsky near the Academy and held a solo show of thirty paintings at the American Club in Paris.

Also a gifted musician, she made her debut in Paris with a Chopin concert. While in Paris, she studied music with Serge Wexler from the Imperial School of Petrograd.

Valentine Vogel returned to St. Louis, painting, teaching art and playing leads, dancing and singing in productions in St. Louis and New York City.