BIOGRAPHY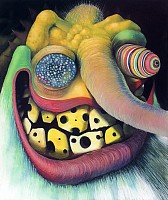 Tom Friedman (American b. 1965)
Tom Friedman, conceptual artist, uses everyday materials including sugar cubes, soap powder, toothpicks, construction paper, spaghetti, bubble gum, hair, tooth paste, and toilet paper.

Friedman, who rarely titles his work, employs a labor-intensive technique related to process art, and creates humorous and elemental works out of
materials that typically don't get human attention. For instance, a glob of bubble gum is stuck to the floor and stretched to the ceiling. In one piece,
thousands of words written on paper become an abstract design, and in
another, a piece of styrofoam is reduced to dust and then sculpted into an
improbably thin, gravity-defying tower.

Friedman's search for meaning in the ordinary broadens themes begun
in the 60s and 70s with pop art, minimalism, process art and conceptual art.

Of a fall 2000 exhibition of his work at the Yerba Buena Center in San Francisco, a critic wrote: "The materials may be mundane, but the artistry is exceptional. Many of the works immediately raise questions of methodology and generate amazement at the perfection of Friedman's execution: How the hell did he do that? "

Tom Friedman was born in St. Louis, Missouri, in 1965 and currently lives in Conway, Massachusetts. He attended Washington University in St. Louis, earning a BFA in Graphic Illustration in 1988. He earned an MFA in Sculpture from the University of Illinois in 1990.

Friedman's work has been seen at the Museum of Modern Art, New York; the
Saatchi Gallery, London; the Art Institute of Chicago; and the Museum of
Contemporary Art, Los Angeles. An 88-page, illustrated catalogue, with
bibliography and exhibition history, accompanies the exhibition.