BIOGRAPHY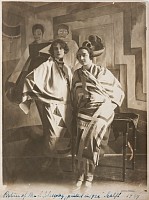 1885-1979
Sonia Delaunay was born in the Ukraine in 1885 and raised in St. Petersburg. After studying drawing at Karlsruhe under Schmidt-Reutter she came to Paris in 1905 to be close to avant-garde circles. She studied at the Academie de la Palette, where Ozenfant and Dunoyer de Segonzac were fellow students. Her early work was influenced by the Fauves; some of her pictures from this period have an expressionist edge that contrasts with the gaiety of her later work. She had a short-lived marriage to Wilhelm Uhde.

Her first show was in 1908; she married Robert Delaunay in 1910. She did not exhibit her paintings again in any number until 1953, twelve years after her husband's death. Although she would not compete with her husband, Sonia painted throughout her life.

Delaunay was not regarded as a great artist, but she was important. Her work was dismissed as being too decorative; but she did not diminish painting, she elevated the decorative arts. With her husband, she developed a style, sometimes called orphism, that was a spin-off of cubism. She was part of the radical drive to purify and elevate art through abstraction. At the same time, she helped direct art toward the gently decorative, a natural development, since decoration is itself generally abstract.

She worked continually throughout her long life in many artistic media beside painting. From the creation of a pieced quilt for her son in which she synthesized Russian peasant blanket design with Cubism, she moved on to collage, bookbinding, book illustration and eventually, to costume and theatre design, fashion design and decorative arts. She died in Paris in 1979 at the age of ninety-four.