BIOGRAPHY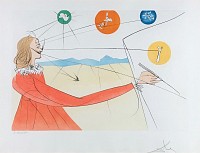 Salvador Dali, Spanish (1904-1989)
Salvador Dali was born May 11, 1904 in Figueres, Spain. From an early age Dali was encouraged to practice his art and would eventually go on to study at an academy in Madrid. In the 1920's Dali went to Paris and began interacting with Picasso, Magritte, and Miro leading to his first Surrealist phase. The rise of the fascist leader Franco in Spain led to Dali's expulsion from the Surrealist movement, but that did not prevent him from painting.

EARLY LIFE
Born Salvador Dalí on May 11, 1904, in Figueres, Spain, located 16 miles from the French border in the foothills of the Pyrenees Mountains. His father, Salvador Dalí y Cusi, was a middle class lawyer and notary. Salvador's father had a strict disciplinary approach to raising children—a style of child-rearing which contrasted sharply with that of his mother, Felipa Domenech Ferres. She often indulged young Salvador in his art and early eccentricities. It has been said that young Salvador was a precocious and intelligent child, prone to fits of anger against his parents and schoolmates. Consequently, Dalí was subjected to furious acts of cruelty by more dominant students or his father. The elder Salvador wouldn't tolerate his son's outbursts or eccentricities, and punished him severely. Their relationship deteriorated when Salvador was still young, exacerbated by competition between he and his father for Felipa's affection.

Dalí had an older brother, born nine months before him, also named Salvador, who died of gastroenteritis. Later in his life, Dalí often related the story that when he was five years old, his parents took him to the grave of his older brother and told him he was his brother's reincarnation. In the metaphysical prose he frequently used, Dalí recalled, "[we] resembled each other like two drops of water, but we had different reflections." He "was probably a first version of myself, but conceived too much in the absolute."

Salvador, along with his younger sister Ana Maria and his parents, often spent time at their summer home in the coastal village of Cadaques. At an early age, young Salvador was producing highly sophisticated drawings, and both his parents strongly supported his artistic talent. It was here that his parents built him an art studio before he entered art school.

Upon recognizing his immense talent, Dalí's parents sent him to drawing school at the Colegio de Hermanos Maristas and the Instituto in Figueres, Spain in 1916. He was not a serious student, preferring to daydream in class and stand out as the class eccentric, wearing odd clothing and long hair. After that first year at art school, he discovered modern painting in Cadaques while vacationing with his family. There he also met Ramon Pichot, a local artist who frequently visited Paris. The next year, his father organized an exhibition of Salvador's charcoal drawings in the family home. By 1919, Dalí had his first public exhibition at the Municipal Theater in Figueres.

In 1921, Salvador Dalí's mother, Felipa, died of breast cancer.

Dalí was 16, and her death devastated him. His father married his deceased wife's sister, which did not endear the younger Dalí any closer to his father, though he respected his aunt. The father and son would battle over many different issues throughout their lives, until the elder Dalí's death.

ART SCHOOL AND SURREALISM
In 1922, Dalí enrolled in the Academia de San Fernando in Madrid, Spain, and stayed at the student residence. There he brought his eccentricity to a new level, wearing long hair and sideburns, and dressing in the style of English Aesthetes of the late 19th century. During his studies, he was influenced by several different artistic styles, including Metaphysics and Cubism, which earned him attention from his fellow students—even though he probably didn't understand the Cubist movement entirely. In 1923, Dalí was suspended from the Academy for criticizing his teachers and allegedly starting a riot among students over the Academy's choice of a professorship. That same year, he was arrested and briefly imprisoned in Gerona for allegedly supporting the Separatist movement, although Dalí was apolitical then and remained so throughout most of his life. He returned to the Academy in 1926, but was permanently expelled shortly before his final exams for declaring that no one on the faculty was competent enough to examine him.

While in school, Dalí began exploring many forms of art including classical painters like Raphael, Bronzino, and Valzquez (from whom he adopted his signature curled moustache). He also dabbled in the most avant-garde art movements such as Dada, a post World War I anti-establishment cultural movement. While Dalí's apolitical outlook on life prevented him from becoming a strict follower, the Dada philosophy influenced his work throughout his life.

In between 1926 and 1929, Dalí made several trips to Paris, and met with influential painters and intellectuals including Pablo Picasso, whom he revered. During this time, Dalí painted a number of works that displayed Picasso's influence. He also met Joan Miro, the Spanish painter and sculptor who, along with poet Paul Eluard and painter Rene Magritte, introduced Dalí to Surrealism. By this time, Dalí was working with Impressionism, Futurism, and Cubism. Dalí's paintings became associated with three general themes: depicting a measure of man's universe and his sensations; the use of collage; and objects charged with sexual symbolism, and ideographic imagery.

All this experimentation led to Dalí's first Surrealistic period in 1929. These oil paintings were small collages of his dream images. His work employed a meticulous classical technique, influenced by Renaissance artists, that contradicted the "unreal dream" space he created with strange hallucinatory characters. Even before this period of his art, Dalí was an avid reader of Sigmund Freud's psychoanalytic theories. Dalí's major contribution to the Surrealist Movement was what he called the "paranoiac-critical method," a mental exercise of accessing the subconscious to enhance artistic creativity.

Dalí would use the method to create a reality from his dreams and subconscious thoughts, thus mentally changing reality to what he wanted it to be and not necessarily what it was. For Dalí, it became a way of life.

In 1929, Salvador Dalí expanded his artistic exploration into the world of film-making when he collaborated with Luis Buñuel on two films, Un Chien andalou (An Andalusian Dog), and in 1930, L'Age d'or (The Golden Age), which is well remembered for its opening scene of the simulated slashing of a human eye with a razor. Dalí's art appeared several years later in another film, the 1945 Alfred Hitchcock movie Spellbound, starring Gregory Peck and Ingrid Bergman. Dalí's paintings were used in a dream sequence, and aided the plot by giving clues to solving the secret to character John Ballantine's psychological problems.

In August, 1929, Dalí met Elena Dmitrievna Diakonova (sometimes written as Elena Ivanorna Diakonova), a Russian immigrant, 10 years his senior. At the time, she was the wife of surrealist writer Paul Eluard. A strong mental and physical attraction developed between Dalí and Diakonova, and she soon left Eluard to spend her life with Dalí. Also known as Gala, she became Dalí's muse, inspiration, and eventually his wife. She helped balance, or one might say counterbalance, the creative forces in Dalí's life. With his wild expressions and fantasies, he was not capable of dealing with the business side of being an artist. Gala took care of his legal and financial matters, and negotiated contracts with dealers and exhibition promoters. They were married in a civil ceremony in 1934.

By 1930, Salvador Dalí had become a notorious figure in the Surrealist movement. Viscount and Viscountess Charles and Marie-Laure de Noailles became his first patrons. French aristocrats, both husband and wife invested heavily in avant-garde art in the early 20th century. One of Dalí's most famous paintings produced at this time—and perhaps the best-known Surrealist work—was The Persistence of Memory (1931). The painting, sometimes called Soft Watches, shows melting pocket watches in a landscape setting. It is said that the painting conveys several ideas within the image, chiefly that time is not rigid and everything is destructible.

By the mid-1930s, Salvador Dalí had become as notorious for his colorful personality as for his artwork and, for some art critics, the former was overshadowing the latter. Often sporting an exaggeratedly long mustache,cape, and walking stick, Dalí's public appearances exhibited some unusual behavior. In 1934, art dealer Julian Levy introduced Dalí to America in a New York exhibition that caused quite a lot of controversy. At a ball held in his honor Dalí, in characteristic flamboyant style, appeared wearing a glass case across his chest which contained a brassiere.

EXPULSION FROM THE SURREALISTS
As war approached in Europe, specifically in Spain, Salvador clashed with members of the Surrealist movement. In a "trial" held in 1934, he was expelled from the group.

He had quietly supported Spanish militant Francisco Franco, but it's unclear whether this was the reason for his expulsion. Officially, Dalí was notified that his expulsion was because he "had repeatedly been guilty of counter-revolutionary activity involving the celebration of fascism under Hitler." It is also very likely that many members of the movement were aghast at some of his public antics. However, some art historians believe the expulsion was driven more by his feud with the movement's leader Andre Breton. He continued to participate in several international Surrealist exhibitions into the 1940s. At the opening of the London Surrealist exhibition in 1936, he delivered a lecture titled, "Fantomes paranoiaques athentiques" (authentic paranoid ghosts). Dressed in a wetsuit, carrying a billiard cue and walking a pair of Russian wolfhounds, he later said his attire was a way for him to show that he was "plunging into the depths" of the human mind.

During the World War II, Dalí and his wife moved to the United States. They remained there until 1948, when they moved back to his beloved Catalonia. These were important years for Dalí. The Metropolitan Museum of Modern Art in New York gave him his own retrospective exhibit in 1941. This was followed by the publication of his autobiography, The Secret Life of Salvador Dalí, in 1942. During the time he spent in the United States, Dalí moved away from Surrealism and into his classical period. The feud with members of the Surrealist movement continued, but Dalí seemed undaunted. His ever-expanding mind had ventured into new subjects.

THE DALÍ TEATRO MUSEO
Over the next 15 years, Dalí painted a series of 19 large canvases, concerning scientific, historical or religious themes. He often called this period "Nuclear Mysticism." During this period, his artwork took on a technical brilliance combining meticulous detail with fantastic and limitless imagination. He would incorporate optical illusions, holography, and geometry within his paintings. Many of his works contained images that depict divine geometry, the DNA, the Hyper Cube, and religious themes of Chastity.

From 1960 to 1974, Salvador Dalí dedicated much of his time to creating the Dalí Teatro Museo (Theater-Museum) in Figueres, Spain. The museum was the former Municipal Theater where Dalí had his public exhibition at the age of 14. The original 19th century structure was destroyed at the end of the Spanish Civil War. Officially opened in 1974 the new structure, formed from the ruins of the old, was based on Dalí's design. The museum is billed as the World's largest Surrealist structure, containing a series of spaces that form a single artistic object where each element is an inextricable part of the whole. The museum houses the broadest range of works by the artist from his earliest artistic experiences to works of the last years of this life. Several works on permanent display were created expressly for the museum.

The same year as the opening of the Dalí Museum in Spain, Salvador dissolved his business relationship with manager Peter Moore.

As a result, all rights to his collection were sold without his permission by other business managers resulting in Dalí losing much of his wealth. Two wealthy American art collectors, A. Reynolds Morse and his wife Eleanor, who had known Dalí since 1942, set up an organization called "Friends of Dalí" and a foundation to put the artist on a more secure financial footing. The organization also established the Salvador Dalí Museum in St. Petersburg, Florida.

FINAL YEARS
In 1980, Dalí was forced to retire from painting due to a motor disorder that caused permanent trembling and weakness in his hands. He was not able to hold a paint brush, and lost the ability to express himself in the way he knew best. Then in 1982, his beloved wife and friend, Gala, died. The two events put him in a deep depression. He moved to Pubol, in a castle he had purchased and remodeled for Gala, possibly to hide from the public or, as some speculate, to die. In 1984, Dalí was severely burned in a fire, which confined him to a wheelchair. Friends, patrons, and fellow artists rescued him from the castle and returned him to Figueres, making him comfortable in his Teatro Museo.

In November 1988, Salvador Dalí entered the hospital with a failing heart. After a brief convalescence, he returned to the Teatro Museo. On January 23, 1989, he died of heart failure at the age of 84. He is buried in the theater-museum's crypt, bringing his life in the world of art full circle. The Teatro Museo was built on the site where he had his first art exhibit, across the street from the church of Sant Pere where he was baptized, received his first communion, and his funeral was held. It's also three blocks from the house where he was born.