BIOGRAPHY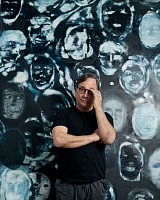 Ross Bleckner, American (b. 1949)
Ross Bleckner grew up in Hewlett, Long Island, New York; drawing all the time without being aware that other artists existed. He was the middle child between two sisters; his father manufactures electronic parts He attended New York University where Sol Lewitt, Chuck Close and others were his teachers. He graduated in 1972, then spent a year at the California Institute of Arts. His contacts in the next few years were very fortuitous; Sol Lewitt and Chuck Close, Carl Andre, David Salle, Julian Schnabel, etc.

Bleckner is on the nervous side, beset by self-doubt, insomnia, and gloom. He is unpretentious, although he is bluntly handsome, with olive complexion, and a compact build. He is "10 percent that is superficial and 90 percent that has to do with the depths and that is threatened by living. He is a very complicated individual. He is a very, very morose, deeply feeling, hardworking artist- he takes a lot from within himself - but always, no matter how successful he is, he feels he is going to fall into those depths." 1

Bleckner first exhibited his work in New York in 1974. The following year he was given his first one-man show; he was included in the 1975 Whitney Biennial.. Since about 1985 has addressed many of his paintings to the subject of AIDS- both documenting it as a historical phenomenon and commemorating specific individuals who have died.