BIOGRAPHY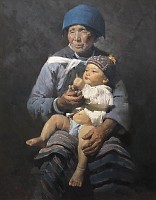 b. 1953
Winner of the Best of Show in 1995 at the Oil Painters of America, Mian Situ made his art debut in the United States at that time. He is Chinese born and, having traveled extensively in that country, he creates impressionist paintings that focus on depicting the everyday life of the people he knows.

Situ studied at the Guangzhou Institute of Fine Arts where he had basic academic training. However, during the Cultural Revolution in the mid 1980s, he was ordered to work as a film projectionist for propaganda films. Later he returned to the Institute to graduate.

He wanted to study art in America and arrived in Los Angeles in 1987. He worked in a commercial gallery where he copied European paintings for 75 dollars per painting.