BIOGRAPHY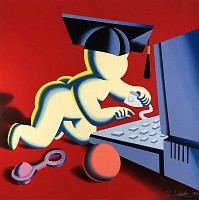 Mark Kostabi (American b. 1960)
Born in California in 1960, Mark Kostabi has lived, worked and made waves in New York since 1982. His numerous exhibitions, outspoken artistic and business philosophy, along with his arresting painting style, have led to wide - spread critical attention and placed him in the limelight of public interest. His works now hang in major private and public collections, including the Metropolitan Museum of Art, the Guggenheim and the Museum of Modern Art.

Of all the ways to describe Kostabi, the one that most people will agree with is "controversial" it is also the way the artist himself likes to be known. "All publicity is good," says Kostabi, "especially bad publicity. Bad publicity creates controversy, and nothing attracts people's attention like controversy." Why the controversy? Why has Kostabi made so many friends ... and so many enemies? He's blazing a new trail in the art world. Like Warhol before him, Kostabi is turning the art world on its end, challenging the traditional view of the artist.

In addition to his many collectors, Kostabi also has many supporters, including art museum curators and art dealers. They argue that Kostabi is making a 'valid statement' about the contemporary art scene.