BIOGRAPHY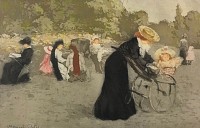 Manuel Robbe (French 1872-1936)
A Paris-born painter and printmaker, Manuel Robbe was noted for his experimental approach to printmaking, and during his career created more than 200 aquatints and drypoints. He was a great technician, "inventing a technique known as "sugar-life" which gave his prints a startling subtlety. Robbe's technique was developed over several phases. He printed his design with a mixture of sugar, India ink and gum Arabic, on his zinc plate. This was followed by heating the plate and working with the soft-ground etching process until the desired result was achieved. Finally, Robbe painted the subject on the zinc plate with an oil paint brush. For this process he used a special brush made of rags, which was called 'a la poupée' (with a doll). This process was used by French engravers of the 18th century. In completing his image, Robbe used his fingers to play with the tone on the zinc plate, whereby many of these color prints appear completely unique. He arrived at new shades of color every time he pulled an impression; for example, park scenes appear in spring colors and also in colors associated with autumn." (Christopher Clark)

Robbe did images of daily life, especially of beautifully gowned women of obvious comfortable means with their children or involved in leisure activities such as looking in mirrors or perusing artwork. He also did some landscape subjects. With his images, Robbe reflected "la belle époque" or a happy, peaceful time in France at the end of the 19th century and early 20th century before the outbreak of World War I when spririts were relatively high because life seemed peaceful and progressive.

He was born in Paris to French parents, refugees from the Franco-Prussion War, from Berthune in northern France. Robbe attended the Académie Julian and the Ecole des Beaux Arts and was mentored in his etching and aquatint methods by Eugene Delâtre. By 1898, he was exhibiting at the Salon of the Société Nationale des Beaux-Arts, having changed his commitment from the Societé des Artistes Français. Along with Jacques Villon, Robbe was promoted by Edmond Sagot, Parisian publisher who was one of the most prominent print publishers in western culture at the turn of the century.

Before 1914, Robbe completed a large number of aquatints in color as well as in black and white, and for his excellence received a Gold Medal at the 1900 Universal Exhibition. During World War I, he was a pilot, and after the war, his art career waned because of increasing focus on modernist movements such as Cubism and because of his basic shyness that meant he did not aggressively promote his work. He turned his atelier into a commercial printing shop that has continued into the 21st century.