BIOGRAPHY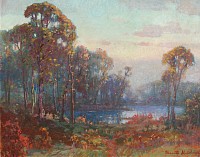 Knute Heldner (Swedish/American 1877-1952)
Knute Heldner, born in Vederslov Smoland, Sweden was a painter and woodcarver who spent the latter part of his professional career in New Orleans, Louisiana gaining national and international recognition for his Louisiana landscapes.

His early formal training was at Karlskrona Technical School and the National Royal Academy of Stockholm. Heldner immigrated to the United States about 1902, arriving first in Boston and moving later to the Great Lakes region. He held a variety of jobs such as miner, cobbler and lumber camp cook in Minnesota and continued his art education at the Minneapolis School of Fine Art. His early art work focused on the manual labor of mining and lumbering in paintings titled Veterans of the Mines and The Lumberjacks. His later work in Southern landscapes including The Cotton Pickers retained a subject interest in the physical aspects of work.

He first exhibited his art work around 1915, when he entered a painting in a Minnesota State Fair competition and won the Gold Medal. In the mid- twenties, Heldner began spending his winters in New Orleans where he painted Vieux Carre scenes and Louisiana landscapes. In the summers, he returned to Duluth, Minnesota. He was an active member of local art communities in both New Orleans and Duluth.

In New Orleans, he joined the Southern States Art Union organized by Ellsworth Woodward and was a charter member of the New Orleans Art League. The Art Association of New Orleans hung Heldner's first one-man show at the Isaac Delgado Museum of Art in 1926. He also taught painting at the New Orleans Art School established by the Arts and Crafts Club of New Orleans.

Heldner continued to study art through the twenties and thirties at the Chicago Art Institute, the Academy of Scandinavian Art in Paris, and under the direction of artists David Erickson, Dispieu and others. In 1926, he won highest honors at the Swedish-American Art Exhibition in Chicago, and in 1932 he held one-man shows at the Salon d'Automne in Paris, a gallery in Stockholm, and the Arts and Crafts Club of New Orleans Gallery. In the thirties, Heldner participated in the Workers Progress Administration Federal Art Project in Louisiana continuing to paint landscapes as well as portraits. The New Orleans Assembly of Delphians purchased a Heldner painting Petit Vernon and donated it to the Isaac Delgado Museum in 1937. His paintings also hang in the permanent collections of the Smithsonian Institute, the White House, and the Luxembourg Museum in Paris.

Heldner married Colette Pope and had two children, Paulette and Franz. He died in New Orleans in 1952.