BIOGRAPHY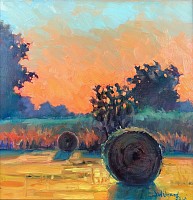 Julie Wiegand (American/Missouri b. 1956)
Julie Wiegand was born into a family of artists & musicians in 1956. She lived with her family in rural Chesterfield, Missouri, in a 1920's Mercantile building which her parents, Claire & Frank had renamed & opened as the Smoke House Market. Hers was a multi-generational household, with Grandma Clara & Great Aunt Emma sharing the space with siblings, Don, George, Mary Claire & Jane. Julie spent most of her youth outside---connecting to the land through play. Her interests were clear from early on; music, art, nature, and athletics. She was lucky to be surrounded by each of these in the Wiegand Family.
Wiegand's interest in art took the forefront about age 14. Julie is continuously developing her art through personal study, classes, & workshops. Including others, she has studied with Billyo O 'Donnell, Camille Przewodek, Kim English, Kenn Backhaus & many mentors & fellow artists. "I found the Plein Air Painters of America workshops to be especially enlightening! Spending time with George Strickland, Denise Burns, Joseph Mendez, Kevin Macpherson & Gay Faulkenberry was a gift!"
Julie had her first solo show in 1985, at her brother Don's sculpture studio in Chesterfield. In multiple group & solo shows annually, she shows & sells her work to collectors regionally & nationally. She has shown with AWA, NOAPS, & Salon International. Julie is well known for her biannual Studio Sales, held in her historic limestone schoolhouse, Lyon School Studio, located in rural Missouri on 15 acres of high land. Her work is also at Astral Glass, New Haven, Mo, Augusta Wood, Augusta, Mo, Fine Art Limited, Chesterfield, Mo, & Kodner Gallery, Ladue, Mo.
Julie lives with her husband Tommy Griesedieck & best friend Emma at Lyon School. When not painting, she divides her time among the business of art, yoga, piano, hiking, family & friends. "I admire & study nature every day. We have everything to learn from a lizard on a rock ---and the light on a cloud. I try to live with an open mind & an open heart , to learn from every day, & believe in the good of all"