BIOGRAPHY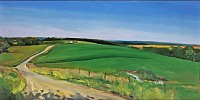 Joan Parker (American b. 1949)
Joan Parker, is a Plein Air landscape painter and a native of California. Her artistic abilities were discovered early, and she received multiple scholarships and awards at a young age. Parker's keen eye for design first took her to Paris to study hair and fashion, and afforded her the opportunity to own a highly successful, upscale salon and fashion consulting business in California.
When the world of fine art beckoned her, she added work as a freelance artist to her already busy schedule as a business owner. With her interest piqued in a career as a painter, Joan received her Bachelor of Fine Arts with honors from Art Center College of Design in Pasadena, California.
During Parker's work as a freelance artist, she had the opportunity to use her skills in the motion picture industry. This included creating conceptual designs and freehand illustrations for computerized puppets and "angels wings," in the movie "Michael," with John Travolta, and producing five classic 18th Century style paintings in varying degrees of completeness, for the movie "Sara." Parker moved to the Kansas City area in 1996, when Hallmark Cards recruited her to create original greeting card artwork. Six years later, she left Hallmark to pursue painting, specifically Plein Air full time.
Parker has been instrumental in establishing Plein Air painting events in both Missouri and Kansas. "Because the prairie is very stark, paintings of it tend to convey an abstracted feel of color and light," said Parker with reference to her work. "They're a middle ground between landscape and contemporary abstraction." Parker is represented in galleries from St. Louis to California. She has participated in twenty-six group exhibitions, national juried shows, and several one woman shows. Joan holds seasonal Plein Air painting workshops throughout the Midwest. She has a passion for the immediacy of painting outdoors and enjoys sharing her love of Plein Air with others; bringing this post-Impressionist movement, known for its beautiful outdoors (or Plein Air) scenery, to the public.