BIOGRAPHY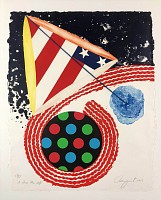 1933-1991
James Rosenquist was born in 1933 at Grand Forks, North Dakota. His family moved to Minneapolis in 1944. In 1948, he began his studies of art at the Minneapolis Art Institute. In 1953, he continued his studies of painting at the University of Minnesota.

In 1955 he had a scholarship to go to the Art Students' League, New York, where he met Robert Indiana. During this period, he painted small format abstract paintings and worked part-time as a driver. In 1957 he met Jasper Johns and Robert Rauschenberg. In 1959 he was at the same drawing class as Claes Oldenburg and was made "head painter" by the Artcraft Strauss Corporation.

He married the textile designer Mary Lou Adams. During the election he produced the picture President Elect in which John F. Kennedy's face is combined in a kind of collage with sex and automobile imagery. His first one-man exhibition in the Green Gallery, in 1962, was sold out. In 1963 he worked on several sculptures, had a number of exhibitions at the Galerie Ileana Sonnabend, showed his work at the Dwan Gallery, Los Angeles, and taught at Yale University. In 1965 he began to work with lithographs.

In the same year he made the 26 meter-wide picture F-111, which was shown at the Jewish Museum, New York, at Moderna Museet, Stockholm, and in other European cities. It is one of his most important works. The spatial organization of the composition into layers suggests the interrelationship of contemporary historical symbols and signs of affluence and military hardware, a vision of American culture expressing the proximity of euphoria and catastrophe. In 1967 he moved to East Hampton.

In 1968 he was given his first retrospective by the National Gallery of Canada, Ottawa. In 1969 he turned his attention to experimenting with film techniques. In 1970 he went to Cologne for the opening of his exhibition at the Galerie Rolf Ricke. During the public protest against the Vietnam War he was briefly detained in Washington. During the same year he had comprehensive retrospectives at the Wallraf-Richards Museum, Cologne, and the Whitney Museum, New York.

In 1974 and 1975, he lobbied the U.S. Senate on the legal rights of artists. He became separated from his wife and designed his own house with an open-air studio at Indian Bay, Aripeka, Florida. In 1978 F-111 was exhibited in the International Pavilion at the Venice Biennale. In his work of the late seventies and eighties, e.g. 4 "New Clear Women," images of women are confronted with machine aesthetics, usually in large oblong compositions. The themes of these dynamic compositions also include fire, progress and war machinery which he shows in rotating pictorial narratives. Between 1985 and 1987 Rosenquist's entire development as an artist was shown in a comprehensive retrospective at six American museums.