BIOGRAPHY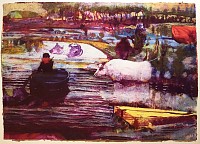 b. 1930
James McGarrell was born 1930 in Indianapolis, Indiana.

The work of James McGarrell has been included in five Whitney Museum Annuals and Biennials, two Carnegie International Exhibitions, Documenta in Kassel Germany and the American Pavilion of the 1968 Venice Biennale. His work has also been exhibited since 1955 in museums and galleries in America and abroad.

His paintings are in the permanent collections of many institutions including The Metropolitan Museum, NY; Museum of Modern Art, NY; Whitney Museum of American Art, NY; Hirshhorn Museum and Sculpture Garden, Washington, DC; Chicago Art Institute, IL; New Orleans Museum of Art; LA; Saint Louis Art Museum, MO; Santa Barbara Museum of Art, CA; Philbrook Museum of Art, OK; Milwaukee Art Museum, WI; Hamburger Kunsthalle, Germany; Rose Art Museum, Brandeis University, MA and Pennsylvania Academy of Fine Arts, PA.

In 1995 McGarrell received the Jimmy Ernst Award for lifetime achievement from the American Academy of Arts and Letters. He was awarded The Oscar Williams and Gene Derwood Prize in visual arts from the New York Community Trust in 2008.

As the youngest artist included in the controversial 1959 Museum of Modern Art exhibition The New Images of Man, he had been recognized primarily as a post-abstract expressionist figurative painter. Beginning around 2004 his work has been moving in a direction that neither embraces nor resists imagistic legibility in its radical celebration of the painting act itself.

He has taught at Reed College, Skowhegan, Indiana University and until his retirement from teaching in 1993, at Washington University in St. Louis. That year, while he was serving a term as Artist in Residence at Dartmouth College, he and his wife, the writer and translator Ann McGarrell, moved into the early 19th century house in Newbury Vermont where they now live and work.