BIOGRAPHY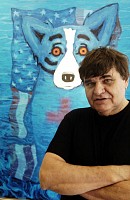 George Rodrigue (American 1944-2013)
From New Iberia, Louisiana, George Rodrigue is known for his Blue-Dog series, inspired by his long-deceased childhood pet, Tiffany, whom he poses with other animals and people. He had early art talent, and ill for nearly a year, he used watercolors and crayons to pass the time and this activity set his future. He studied at the University of Southwestern Louisiana and in Los Angeles at the Art Center College of Design. For awhile he painted Abstract Expressionist works but then went back to painting that which reflected his own Cajun culture including folk tales and bayou and swamp landscapes.

Gradually a black and white spaniel, based on his childhood companion, Tiffany, appeared more and more in Rodgrigue's paintings and became the Blue Dog, now a compelling and humorous pop figure in his original and silk screen reproductions. In 2000, representatives of the Xerox Corporation commissioned Rodrigue with a multi-million dollar contract to do a series of Blue-Dog paintings to promote their printers.

George Rodrigue is also the artist for the Absolut Vodka ads, and has created the artwork for three of the New Orleans Jazz and Heritage Festival posters. The 1995 poster with the portrait of Louis Armstrong and the 1996 one featuring Pete Fountain have become collectors' items.

George Rodrigue and his wife, Wendy, have created the House of Blues Foundation Room to support arts and cultural programs for youth. Money is raised through the sale of his paintings.

A George Rodrigue Museum is in Lafayette, Louisiana.