BIOGRAPHY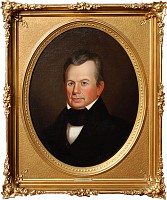 George Caleb Bingham, American (1811-1879)
Born in Augusta County, Virginia in the Shenandoah River Valley, George Caleb Bingham became known for classically rendered western genre, especially Missouri and Mississippi River scenes of boatmen bringing cargo to the American West and politicians seeking to influence frontier life. One of his most famous river genre paintings was The Jolly Flatboatmen" completed in several versions in 1846. Fame resulted for this work when it was exhibited in New York at the American Art Union whose organizers made an engraving of 10,000 copies and distributed it to all of their members. Paintings such as Country Politician (1849) and County Election (1852) and Stump Speaking (1854) reflected Bingham's political interests.
In 1819, as an eight-year old, he moved to Boon's Lick, Missouri with his parents and grandfather who had been farmers and inn keepers in the Shenandoah Valley near Rockingham, Virginia. Reportedly as a child there, he took every opportunity to escape supervision to travel the River and watch the marine activity.
His father died in 1827, when his son was sixteen years old. His mother had encouraged his art talent, but art lessons were not easily obtainable. In order to earn money, he apprenticed to a cabinet maker but determined to become an artist. By 1835, he had a modest reputation as a frontier painter and successfully charged twenty dollars per portrait in St. Louis. "His portraits had become standard decorations in prosperous Missouri homes." (Samuels 46). In 1836, he moved to Natchez, Mississippi and there had the same kind of career, only was able to charge forty dollars per portrait.
He remained largely self taught until 1837, when he, age 26 and using the proceeds from his portraiture, studied several months at the Pennsylvania Academy of the Fine Arts. He later said that he learned much of his atmospheric style and classically balanced composition by copying paintings in collections in St. Louis and Philadelphia and that among his most admired painters were Thomas Cole, John Vanderlyn, and William Sidney Mount. Between 1856 and 1859, Bingham traveled back and forth to Dusseldorf, Germany, where he studied the work of genre painters. Some critics think these influences were negative on his work because during that time period, he abandoned his luminist style that had brought him so much public affirmation.
Bingham credited Chester Harding (1792-1866) as being the earliest and one of the most lasting influences on his work. Harding,a leading portraitists when Bingham was a young man, had a studio in Franklin, near Bingham's home town. In 1822, when Bingham was ten years old, he watched Harding finish a portrait of Daniel Boone. Bingham recalled that watching Harding with the Boone portrait was a lasting inspiration and that it was the first time he had ever seen a painting in progress. Harding suggested to Bingham that he begin doing portraiture by finding subjects in the river men, which, of course, opened the subject matter that established fame and financial success for Bingham. Harding also encouraged Bingham to copy with paint engravings. He later painted two portraits of Boone but, contrary to the assertions of some scholars, he did not do Boone portraits in the company of Harding.
Bingham's portraits of Boone are not located, but one of them, a wood signboard for a hotel in Boonville circa 1828 to 1830, showed a likeness of Boone in buckskin dress with his gun and inscription "Daniel Boone/Liberty". It is possible this image was based on an engraving by James Otto Lewis after a design by Chester Harding published in St. Louis in 1820 (Bloch) and that this similarity accounts for the stories that Bingham and Harding painted together.
From 1840 to 1844, Bingham was based in Washington DC where he painted portraits of prominent citizens, but he failed to achieve much recognition until he returned to Missouri in 1844 and began painting river genre works from a studio in St. Louis. Among the first notable paintings of his signature subject was Fur Traders Descending the Missouri (1845).
At the same time, Bingham was creative artistically, he was running for state office. He was a member of the Whig party, founded in 1834 as a coalition opposed to Andrew Jackson, who was then U.S. President. Bingham's close friend and influential Missouri Whig, James Sidney Rollins, drew him into politics, and Bingham gave speeches for presidential candidate William Henry Harrison. In 1846, Bingham was elected to the state legislature, but the election was contested and Bingham lost the office. In 1862, he was elected state treasurer and in 1875, Adjutant General. Two years later, he accepted a professorship at the University of Missouri at Columbia, a position he held for only two years because he died in 1879.
However, during these last years, he had done some traveling to Europe and in 1872 visited Colorado, where he did a painting of Pike's Peak, View of Pike's Peak, now in the Amon Carter Museum. In 1878, he returned to Colorado.
"Bingham was described as small and delicate but dynamic, an excellent conversationalist married three times (Samuels 46). He always wore a wig because he had "contracted smallpox at age 24 in 1834-35 and lost his hair. Thereafter he wore a wig, which is first seen in his earliest known self portrait." (Bloch/Kline)
Sources:
Michael David Zellman, "300 Years of American Art"
E Maurice Bloch, Catalogue Raisonne of George Caleb Bingham. Citing Bloch as a reference, Fred R. Kline, fine-art professional of Santa Fe, New Mexico submitted the information regarding Bingham and Daniel Boone portraits and smallpox.
Peter Falk, Who Was Who in American Art
Peggy and Harold Samuels, The Illustrated Encyclopedia of Artists of the American West