BIOGRAPHY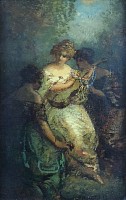 Frederick Ballard Williams (American 1871-1956)
A painter of romantic and decorative canvases especially woodland scenes with dancing nymphs or aristocratic women in gorgeous 18th century gowns, Frederick Williams did works that reflected his exposure to French rococo painting of Antoine Watteau.

Williams was born in Brooklyn, New York. He was educated in the public schools of Bloomfield and Montclair, New Jersey, and took night art classes in New York City at Cooper Union. He also studied at the New York Institute of Artists and Artisans and with John Ward Stimson, a romantic or idealist painter, before attending the School of the National Academy of Design where he had his first exhibition in 1901.

He then traveled to England and France where he was inspired by the Barbizon aesthetic of placing laboring figures in landscape.

He lived most of his life in Glen Ridge, New Jersey where he found many of the subjects for his paintings. However, in the 1930s, he began omitting idyllic figures in his landscape and did much painting in the mountains of western North Carolina. He also went West, including San Francisco from 1896 and 1901. He returned to California on a sketching trip in 1921.

In 1910, he was part of the famous Santa Fe Railway and American Lithographic Company sponsored trip to bring well-known eastern painters to the Grand Canyon. The group, starting from Chicago in a specially assigned railroad car, included Edward Potthast, Elliott Daingerfield, Thomas Moran, and De Witt Parshall. The artists were given lodging at El Tovar Hotel and studios at the South Rim of the Canyon in exchange for paintings for the railroad and for exhibition throughout the East.

These artists subsequently organized themselves into the Society of Painters of the Far West, and adding some of the Taos painters, held annual traveling shows for a number of years from 1913.

Williams was a realist painter who primarily did his nature paintings in his studio. He earned many awards during his lifetime including the Isidor Gold Medal of the National Academy of Design in 1909. He died in Glen Ridge, New Jersey in 1956.

Memberships included the National Arts Club, National Academy of Design, New York Water Color Club, Lotos Club, Montclair Art Association, and the American Artists Professional League, of which he was founding President in 1928.