BIOGRAPHY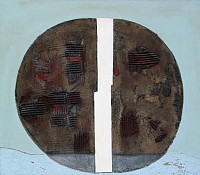 Enrico Donati (Italian, 1909-2008)
Enrico Donati, a surrealist and abstract expressionist painter, was born in Milan, Italy in 1909 and died in Manhattan on April 25, 2008. He was known for his association with the surrealist movement of the 1940's, but his artwork continued to transform itself through the many trends that have occurred during his long career. In Italy he attended the Universita degli Studi in Pavia where he studied economics. In 1934, he moved to the United States settling in New York where he studied at the New School for Social Research and the Art Students' League.
Considered the surviving dean of the Surrealist Movement and a member of the New York School, Donati painted with Ernst, Matta and Tanguy in the thirties and forties, and in particular with Andre Breton, regarded by many to be the grand master of Surrealism.
He helped organize the Exposition Internationale du Surrealisme in Paris in 1947 where he exhibited three of his pieces. The Surrealists were known to avoid presenting or representing reality, and put the emphasis on invention and creativity by uncovering the poetic aspect of life with its kaleidoscopic multidimensional images, using reality only to enhance imagination.
Donati survived the decline of Surrealism in the late 1940's by adapting his style to current art trends as he worked with new materials and textures throughout the 1950's.
One trend with which he became involved was Abstract Expressionism, which originated in the 1940s, and became popular in the 1950s. It was a movement in which artists typically applied paint, rapidly and with force, to large canvases, in an effort to show feelings and emotions. Paint might be applied with large brushes, sometimes dripping or even throwing it onto canvas. Abstract Expressionist work is characterized by a strong dependence on what appears to be accident and chance, although it is actually highly planned.
Donati held a retrospective at the Palais des Beaux-Arts in Brussels in 1961 and went on to exhibit at the Betty Parsons Gallery with other forerunners of American Abstract Expressionism: Mark Rothko, Barnett Newman, and Jackson Pollock. It was at this time that Donati created some of his most inventive and extraordinary work, some of which was featured in a survey exhibition at the Alter & Gil Gallery, Beverly Hills, California, in January 2000.
He has held many teaching positions and has been an active lecturer, while continuing to add to his artistic repertoire. From 1960 to 1962 he was a Visiting Lecturer at Yale University, and from 1962 to 1972 a Member of the Yale University Council for the Arts and Architecture.
He has had seventy-five one-man shows, among them an exhibit of new paintings at the Maxwell Davidson Gallery (57th St., New York) in the fall of 1997. Donati's work is held in collections throughout the world, and his work has appeared in over 300 articles and publications, two hard cover books, and he has participated in several Biennials.
Moving into his nineties, Donati worked almost every day. From his studio overlooking Central Park, he continued painting as he had done for almost six decades. Since his arrival in the Untied States in 1942, he has recorded the evolution of American art over the past sixty years, including the Surrealism of the 1940's, Abstract Expressionism, Native American symbols, and even Pop Art, all evoked in his knife or brush strokes.