BIOGRAPHY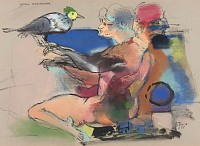 Edward Boccia (American 1921-2012)
Boccia was born in Newark, New Jersey, spending most of his early life on the East coast. After studying art in New York City and serving in World War II, the budding abstract expressionist moved to the Midwest. There he became a professor at the University of Washington in St. Louis, teaching art courses alongside fellow expressionist greats like Max Beckmann.
It was in St. Louis that Boccia made a name for his evolving work, capturing the interest of famed American art collector, Morton D. "Buster" May. May would become an annual patron of Boccia, at times purchasing truck-loads of his paintings, catapulting the artist to the ranks of some of the most collected craftsmen in the United States.
Boccia continued his prolific painting career until his death, developing a style referred to as "figurative expressionism," marked by his exaggerated forms and highly spiritual themes. He also began writing poetry later in his life, compiling a trilogy of poems titled "The Death Series, A Visit from Raphael."