BIOGRAPHY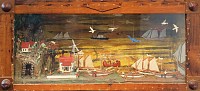 1893-1977
Nicknamed "The Dragon of St. George Street," legendary folk artist Earl Cunningham's work has found it's way into museums like the Smithsonian American Art Museum and the Mennello Museum of American Art, as well as private collections across the country.
A paradigmatic and rare example of American folk art, Earl Cunningham's Panoramic, Whimsical, and Imagined View of the Tropical Coast of Florida illustrates the vibrancy of coastal life. This piece is intricate, detailing ships, a harbor, houses, a cave, a monster, and distinct characters set within a panoramic sunset. A notably gifted storyteller, Cunningham incorporates multiple vignettes into a single piece, effortlessly blending both myth and memory. This adds to the work's richness, and invites the viewer to spend more time with the work to fully understand the depths of its complexities, realities, and lore.
"American fauve," "Grandpa Moses," "visionary artist," "primitive genius" - Earl Cunningham has been called many things. He has been described as a curmudgeon by those who found him difficult and as eccentric by would-be customers locked out of his curio shop in St. Augustine, Florida. A newspaper reporter described him as childlike; a museum director called him "simple as a fox." He has also been described as a kindly man who took time to spin stories to an eleven-year-old boy and as an American folk modernist by a leading New York Journalist.
- Virginia M. Mecklenburg
Senior Curator at the Smithsonian American Art Museum
Excerpt from"The Dragon of St. George Street" in Earl Cunningham's America