BIOGRAPHY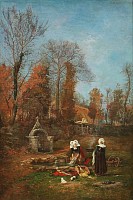 Clement Nye Swift (American 1846-1918)
Clement Nye Swift was born in the town of Acushnet, Massachusetts and lived their his entire life, dying there in 1918.

He first aspired to be an animal painter, and traveled abroad to study the style of French painters. His work met with critical acclaim, and he exhibited in the famous Paris Salon from 1872-1881.

He also wrote poetry -- in particular, verses which were published in the New Bedford Standard on August 27, 1916, featuring "The Ship that Never Will Sail" in praise of the building of the Lagoda ship model at the Whaling Museum.