BIOGRAPHY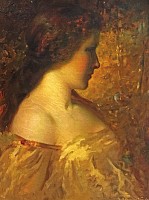 Charles Frederick Naegele (American 1857-1944)
Born in Knoxville, Tennessee, as a child, Naegele moved with his parents to Memphis, where by 1873 he was apprenticed to a tombstone carver at three dollars a week. He also earned money painting signs, and it was through a sign commission that he met the marine painter, Charles Myles Collier, who gave painting lessons to the younger artist and then, in 1880, sent him to study in New York with William Sartain and William Merritt Chase.

After completing his studies in 1882, Naegele remained in New York, quickly gaining favor as a portrait painter. He also designed medals and painted idealized figures of women portraying "Motherhood" and "American Beauty".

Later in his career, he turned increasingly to landscape paintings, particularly after his retirement to his hilltop studio, "Artcrest," near Marietta, Georgia.