BIOGRAPHY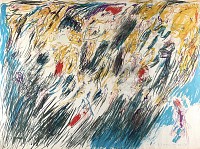 1914-1973
A prolific painter of abstraction and political activist, Asger Jorn was a founding member of Situationist International, a group of agitators linked to Marxism and other avant-garde philosophies with the goal of effecting major social and political changes. He was born in the village of Vejrum in northwest Jutland, Denmark to parents who were teachers and fundamentalist Christians, a philosophy Asger rebelled against increasingly as he got older. His father was killed in an automobile wreck when Asger was twelve years old. Three years later, he was diagnosed with tuberculosis, and he spent three months in treatment on the coast of Jutland. Shortly after that, he began painting, influenced by Danish artist Martin Kaalund-Jorgensen, who used Asger as a model for many of his figurative works.

In 1935, Asger Jorn graduated from Vinthers Seminarium in Silkeborg, Denmark, where he had been especially influenced by a class in 19th Century Scandinavian thought. He had also joined a branch of the Danish Communist Party, and was much impressed by trade unionism. Its leader, Christian Christensen, became a 'second father' to him.

Jorn traveled to Paris in 1936 with the intention of studying with avant-garde artist Wassily Kandinsky, but learning that he was at poverty level and selling only a few paintings, Jorn associated himself with Fernand Leger at the Academie Contemporaine. During this period, he changed his painting focus from figurative to abstraction. He joined French architect and painter Le Corbusier (1887-1965), a pioneer in the International Style, in working on an entry in the 1937 Paris Exhibition. Shortly after, Jorn returned to Denmark where, from 1937 to 1942, he studied at the Copenhagen Art Academy.

When the Nazis occupied Denmark, Asger Jorn was filled with depression, fury and confusion, especially since he had been dedicated to pacifism. He became an active communist resistor and co-founded an underground group called Helhesten, meaning "hell horse". For its journal, he wrote essays including one called "Intimate Banalities" in which he praised amateur landscape painting and asserted that kitsch was the future of art.

After the war, he moved back to France, having distanced himself from the Communist Party as being too committed to central "bourgeois political control". With Karel Appel, Constant Anton Nieuwenhuys and others, he founded the avant-garde movement, COBRA, an acronym for its three main cities, Copenhagen, Brussels and Amsterdam. It was dedicated to spontaniety of expression with "complete freedom of colour and form", and to the artwork of Joan Miro and philosophy of Marxism. Jorn wrote books including Memoires with his artist friend, Guy Debord,, and in 1957 was part of the founding of Situationist International, which attacked capitalist exploitation and the effects of ill treatment of people and asserted unifying of freedoms of playing, working and thinking. In 1961, he quit S.I., thinking its tenets were correct but having little effect.

That same year in Copenhagen, he founded with several others the Scandinavian Institute of Comparative Vandalism, dedicated to enlightenment about Scandinavian culture, and he also continued writing political tracts. With several others, he did much touring of Scandinavia and Europe as part of a photography project to trace cultural connections between the two geographical areas. He also did much published writing on Nordic art.

On May 3, 1973, Asger Jorn died in a hospital in Aarhus, Denmark at age 59.

The Silkeborg Kunstmuseum houses the art collection and archives of Asger Jorn.