BIOGRAPHY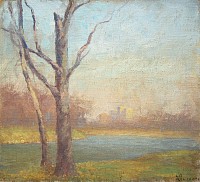 1881-1943
Angelo B.M. Corrubia (1881-1934)

Noted St. Louis architect Angelo B. M. Corrubia was born in Barile, Potenza Province, Italy in 1881 and emigrated to the United States in February of 1903 through Ellis Island on the S.S. Ravenna. Corrubia painted a variety of subjects in around St Louis from the 1920s-1940s. He was an accomplished landscape painter, often traveling to Arcadia, Missouri, situated in Iron County on the Black River in the Missouri Ozarks. It is not surprising that Corrubia was also masterful at the rendering of urban buildings and farm homes and barns with his training as an architect. He frequently painted scenes of mid-town St Louis, where he lived.

A fortuitous meeting at a Michigan art colony in 1926 with a fellow painter from Chicago resulted in the formation of the Business Men's Art Club, a group of professional men who enjoyed painting as a hobby. With initial advice and introductions from St. Louis architect and painter Tom P. Barnett, and supervision by E.G. Drew, president of the Associated Amateur Art Clubs, the club was formally organized in June 1928 with Corrubia serving as secretary. They met Saturday afternoons and Sunday mornings to sketch, paint, visit exhibitions, discuss technique, and critique each other's work. They also received instruction at the St. Louis School of Fine Arts from Gustav Goetsch. An affiliation with the St. Louis Artist's Guild allowed members the use of studio space which they could access whenever they liked.

Corrubia participated in the First Inter-City Exhibition of Amateur Art Clubs in 1928 at the Art Institute of Chicago, along with three other members of his St. Louis organization. He exhibited extensively throughout the 1930's at the City Art Museum, St. Louis, MO and at the St. Louis Artists' Guild. He was a member of the Two-By-Four Society, the Monday Club (St Louis), and served on the board of the St. Louis Artists' Guild.

Corrubia studied architecture at Washington University in St. Louis, Missouri, and the Massachusetts Institute of Technology. Upon graduating from MIT, he returned to St. Louis to work in the architectural firm of Cann and Corrubia from 1915-1921. Their work included the Collegiate Revival Duncker Memorial Hall at Washington University, built in 1923, and Charles H. Duncker's personal residence, as well as other private residences throughout St. Louis.

In 1916, Corrubia was married to Mary Ghio and together they raised their two children, Angelo Ghio Corrubia and Mary Corrubia (Burgess), in the DeBaliviere neighborhood of St. Louis. His son, Angelo Ghio Corrubia, grew up to study architecture and enjoy a successful career in St Louis.

Corrubia was responsible for the design of many buildings that were important to the fabric of the communities of St. Louis, including the Sacred Heart Convent and St. Ambrose Church, both located in the historic Italian neighborhood known as "The Hill." He also served as an associate architect on the Clinton Peabody Terrace Housing Project - one of the first public housing projects developed in St. Louis under the terms of the 1937 Housing Act.

Corrubia was the founder and president of Scarab, a national architect fraternity and taught architecture at the University of Illinois at Urbana-Champaign. He died in 1943 after a brief illness.