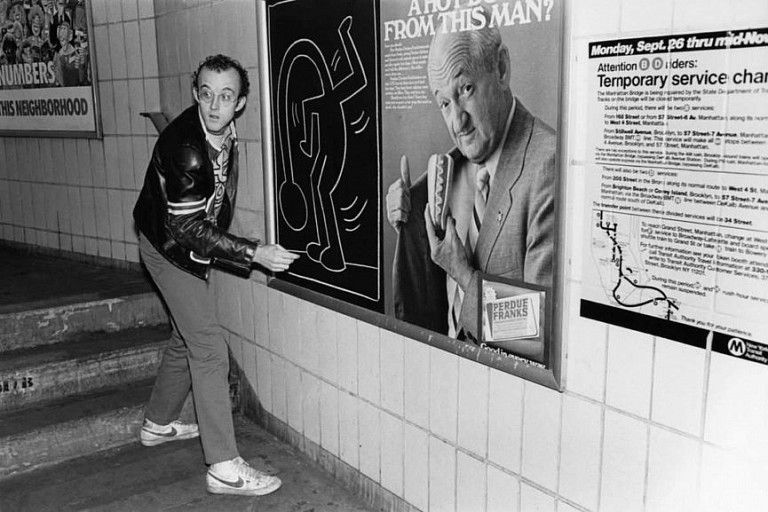 In Depth: Keith Haring
May 21, 2019
Learn more about our recently acquired signed paper bag Lithograph from one of the most important and influential American contemporary artists Keith Haring.
When Keith Haring arrived in New York in 1978, he found an active scene of young musicians and artists, including Kenny Scharf and Jean-Michel Basquiat, with whom Haring became fast friends. Perhaps more importantly, he found are moving out of galleries and into public life. New York at that time was a place of new trends like the rise of hip-hop, diverse club scenes, and graffiti art. Haring embodied the city's energy, tirelessly taking his art wherever he was, whether to a gallery, his apartment, playgrounds, or department stores. In many ways, Harings use of popular imagery came from pop art's ambitions to bring popular culture into a critique of fine art. His approach to pop, however, was expansive and performative, akin to conceptual strategies of the late 1970s in its aggressive use of art as liberating social activism. After Haring contracted the AIDS virus in 1988, he focused his outpouring of activism on the AIDS crisis. Less than two years later, Haring died of an AIDS-related illness.

- The Broad, Los Angeles
Haring opened the Pop Shop in downtown Manhattan. Haring saw the Pop Shop as an extension of his work, a fun boutique where his art could be accessible to everyone. For nearly twenty years, the shop continued to be a downtown attraction with floor-to-ceiling murals and affordable clothing and gift items all featuring Keith Haring's unique icons. In September 2005, the Pop Shop finally closed its doors to the public. Keith Haring's work continues to be displayed around the world at galleries and museums and in public spaces.

- The Keith Haring Foundation
Back to News