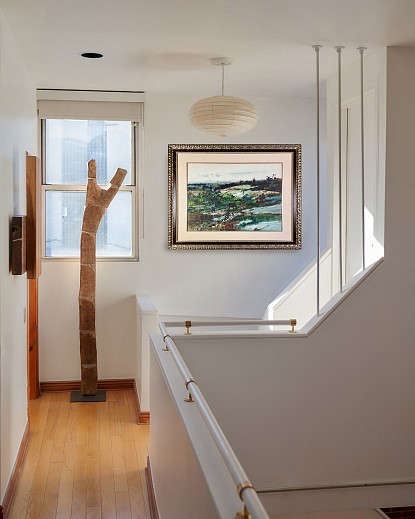 Art In Depth: Andrew Wyeth (American, 1917 - 2009)
January 22, 2022
Go in depth with one of the most notable artists in American history, Andrew Wyeth (American, 1917 - 2009). We are featuring a major, large scale painting Upland Country, 1939 available at Kodner Gallery.
Andrew Wyeth (American, 1917 - 2009)
Upland Country. 1939
Watercolor on Paper
21 1/2 x 29 1/4 inches
Signed Lower Right
Owen Gallery, New York Label Affixed Verso
Available for Purchase
Andrew Wyeth
American 1917 - 2009

Andrew Wyeth (American, July 12, 1917–January 16, 2009), a Contemporary Realist painter, was born in Chadds Ford, PA. As an artist, Wyeth specialized in portraiture and interior genres of art. He was the last-born child in his family. During his early childhood, Wyeth was constantly struck by various illnesses. As a result, Wyeth did not get to finish his education, and was instead homeschooled by his father, Newell Convers Wyeth, a popular illustrator at that time. Due to his father''s line of work, Wyeth was surrounded by various forms of art such as literature, story telling, painting, and music. In addition, he learned about props and customs at a young age. His father''s work was featured in various publications such as magazines and calendars, and he was contracted by the National Geographic Society to paint maps. Even though the elder Wyeth used to tutor art students, he did not interfere with his son''s artistic talent until he was in his mid-teens.

Young Wyeth was naturally talented, and his earliest paintings from the age of 12 were remarkable pieces created with pen and ink to make precise, delicate, and elegant monochromatic lines. When he was 15, his father started to instruct him on the basics of painting techniques and draftsmanship. This went on for two years. However, their styles and imagination were very different. While his father preferred to use oils, Wyeth preferred watercolors as a painting medium. As an artist, Wyeth drew inspiration from his picturesque hometown of Chadds Ford, PA, and his summer home in Brandywine Valley Cushing, ME, where he met and married his wife Betsy James. His wife introduced him to the Olson family and their quaint farmstead, which became a major influence in many of his future works. In his early work, Wyeth focused more on color, execution, and brush strokes. Even though he was biased towards the Realism style of painting, his work was largely dominated by the Regionalist style. His father introduced him to an art dealer in New York, NY, named Robert Macbeth, and, with both men agreeing on his potential, Wyeth had his first solo exhibition in 1937. However, Wyeth had to wait over a decade for his first solo museum exhibition, which would be held at the Farnsworth Art Museum in Rockland, ME in 1951. Additionally, his work was recognized in various reputable magazines, such as the Saturday Evening Post, which featured one of his paintings, The Hunter. A few of his notable works include Christina''s World (1948), Maga''s Daughter (1966), and Snow Hill (1989). With the death of his father in October 1945, the artist's style changed and became more intense and somber. Wyeth fathered two sons with Betsy, and died at the age of 91 after a short illness in 2009.
Selected Exhibition History
1976–1977

Two Worlds of Andrew Wyeth: Kuerners and Olsons, Metropolitan Museum of Art, New York, NY

1943

Exhibition at Museum of Modern Art

1941

Exhibits temperas at Macbeth Gallery

1937

First New York show at the Macbeth Gallery
In 2019, The Brandywine River Museum of Art, in conjunction with the Seattle Art Museum, presented its largest exhibition ever Andrew Wyeth: In Retrospect. This expansive exhibition was curated to celebrate the centennial of painter and favorite son Andrew Wyeth's birth with more than 100 paintings that track his life and career.
Back to News