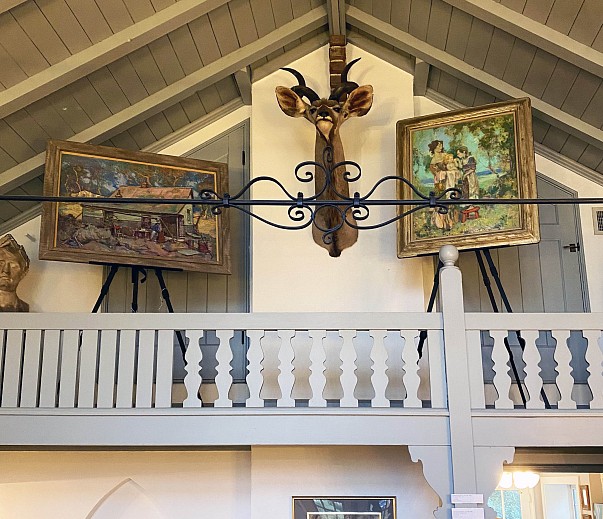 Kodner Gallery Presents: An Evening with Fred Green and Mildred Carpenter
January 7, 2022
Many thanks again to the wonderful hosts, The Mersmans, who graciously opened their historic home to the public.
Also, thank you to Julie Brown-Patton and the Webster-Kirkwood Times for profiling the event.
One last thank you to everyone who attended!
Kodner Gallery presented a special evening At Home with Fred Green and Mildred Bailey Carpenter. For one night only, we orchestrated a limited exhibition featuring a selection of works by the artist couple to be shown at their beautiful, historic home studio located in Webster Groves.

Current owners Doug and Andrew Mersman graciously opened their doors for the exclusive opportunity to take a step back into the world of Fred Green and Mildred Bailey Carpenter.

For many years Kodner Gallery has proudly and enthusiastically catalogued and represented works by the artists, and we were delighted to meet everyone at this intimate, exclusive exhibition.
Fred Green Carpenter (American, Missouri, 1882 - 1965)
Hero Worship, 1948
Oil on Canvas
35 x 29 inches
Signed Lower Left
AVAILABLE FOR PURCHASE
FRED GREEN CARPENTER
AMERICAN, MISSOURI (1882 - 1965)


Carpenter was born in Nashville, Tennessee in 1882, moved to St. Louis and entered Washington University's School of Fine Arts in 1900. He spent the summer of 1902 in Paris, then worked as a guide to the St. Louis World's Fair's art exhibition, before becoming a faculty member at his alma mater. He would remain there until 1952.

Soon Carpenter returned to Paris to study at the Académie Julian (under Jean-Paul Laurens and others) and at the Colarossi Academy, where his teacher Richard E. Miller became an important influence. In 1910, Carpenter's painting The Sisters won an Honorable Mention at the Paris Salon. Back in St. Louis, he married an art student named Mildred Bailey (b. 1894) in 1914. At the Panama-Pacific International Exposition in 1915, Carpenter submitted The Gay Set, which depicted the dressing room in a theater — it won a silver medal. Both Mr. and Mrs. Carpenter continued to exhibit their works and win prizes and medals. Fred Carpenter exhibited mostly at the Pennsylvania Academy (1908-31), where one of his works may be found today: Rose Color, Scarlet and Black, a theatrical scene dated 1912.

Carpenter was commissioned to paint lunettes in the Missouri State Capitol, in 1921, then he took a year to execute the actual canvases in their summer home in Wisconsin: The Battle of Sacramento and The Entry into Havana. Another opportunity came later in 1940 when Carpenter was asked to paint a mural in the Paris, Missouri Post Office. The subject was The Clemens Family Arrives in Monroe County. After Carpenter's death, one student wrote, "He was known for being a marvelous colorist. Today I still see his influence on his student's students. His color had a jewel-like quality. He thought every inch of a painting should be fascinating . . . and a painting should be as interesting close up as from a distance." (Quoted from the St. Louis Post-Dispatch, 16 April 1967). Mildred Carpenter remarked that her husband's colorful, decorative images of beautiful women and children and costume parties led viewers to believe "that he was worldly, or sensual; whereas, he was, in fact, a philosophical, simple, romantic, shy person." (Carpenter Papers, Washington University Archives). She called her husband an impressionist-realist-expressionist. His typical canvas is richly decorative and animated with a cheerful palette of highly saturated colors. The frequently curvilinear forms exhibit well defined contours. There is often an exotic subject, such as Woman of Babylon, or a romantic locale. While The Gossips, illustrated in the 1927 PAFA catalogue, appears to be set in Northern Africa, there are several works from trips to Spain: A Street in Granada; An Andalusian Gypsy. In both theme and painting technique such works recall those of Carpenter's contemporary Francis Luis Mora. The artist died in 1965.

Mildred Bailey Carpenter (American, Missouri, 1894 - 1985)
Moonlight, 1976
Watercolor and Acrylic
32 1/8 x 26 1/8
Signed and Dated Lower Left
AVAILABLE FOR PURCHASE
MILDRED BAILEY CARPENTER
AMERICAN, MISSOURI (1894 - 1985)

Born in St. Louis, Mildred Bailey Carpenter was a painter, writer, illustrator, teacher, lecturer and decorator. She studied in St. Louis and Madrid (1955) and with her husband Fred Green Carpenter, also a listed artist, in Provincetown, Mass. Carpenter was a portrait painter, a writer for the St. Louis Globe Democrat, an illustrator of children's books and an art instructor at Washington University. She painted outdoor scenes, imaginative figures and murals in oil, watercolor, acrylic and pastel.
Back to News