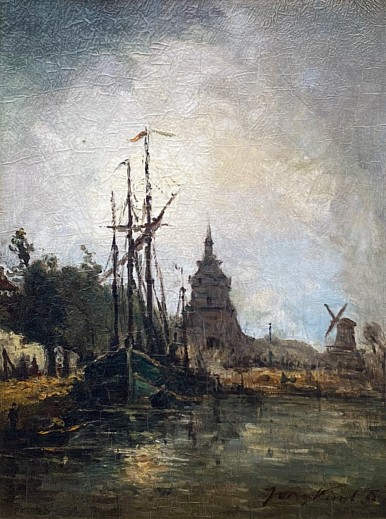 Art In Depth: Johan Barthold Jongkind
January 1, 2022
Fishing Boats, 1876 was exhibited at the St. Louis Art Museum and the Minneapolis Art Museum, as indicated by the original exhibition labels affixed verso. This truly special piece is currently on view at Kodner Gallery.
Click here to watch a guided artwork discussion featuring the work of
Johan Barthold Jongkind from the Frye Art Museum in Seattle, Washington
Johan Barthold Jongkind (Dutch, 1819-1891)
Fishing Boats, 1867
Oil on Canvas
24 x 36 inches
Signed and Dated Lower Right
Available for Purchase
Selected List of Collections
Art Institute of Chicago
, Chicago, Illinois
Birmingham Museums & Art Gallery
, Birmingham, Alabama
Dallas Museum of Art
, Dallas, Texas
Detroit Institute of Arts
, Detroit, Michigan
Fine Arts Museums of San Francisco
, San Francisco, California
Frye Art Museum
, Seattle, Washington
Louvre Museum
, Paris, France
Los Angeles County Museum of Art
, Los Angeles, California
Metropolitan Museum of Art
, New York City, New York
Milwaukee Art Museum
, Milwaukee, Wisconsin
Minneapolis Institute of Arts
, Minneapolis, Minnesota
Musée d'Orsay
, Paris, France
Museum of Fine Arts
, Boston, Massachusetts
National Gallery
, London, UK
National Gallery of Art
, Washington D.C.
Norton Simon Museum
, Pasadena, California
Rijksmuseum
, Amsterdam
ABOVE: Original St. Louis Art Museum Label, Affixed Verso
BELOW: Original Minneapolis Art Museum Label, Affixed Verso
Johan Barthold Jongkind
Dutch (1819-1891)
Johan Barthold Jongkind was a Dutch landscape painter that played an integral role in the development of Impressionism. Jongkind's use of broken brushstrokes to create shimmering light in works such as La Seine et Notre-Dame de Paris(1864), led Édouard Manet to pronounce him "the father of modern landscape." Born on June 3, 1819 in Latrop, Netherlands, he first trained with Andreas Schelfhout in The Hague, before moving to Paris where he received instruction from Louis-Gabriel-Eugène Isabey. Many of Jongkind's early works show the influence of 17th-century Dutch landscape painters as well as the silvery light of Jean-Baptiste-Camille Corot. In 1862, Jongkind exhibited at the Salon des Refusés, where his paintings were lauded by Eugène Boudin and Claude Monet for their innovative technique. Monet later recounted that Jongkind acted a mentor to him during the 1860s, while they both were living and working in the town of Honfleur. Throughout his life, the artist struggled with mental illness and alcoholism which often led to his friends and art dealers needing to provide financial assistance. He died on February 9, 1891 in La Côte-Saint-André, France. Today, Jongkind's works are held in the collections of the Musée d'Orsay in Paris, the Metropolitan Museum of Art in New York, the National Gallery in London, and the Rijksmuseum in Amsterdam, among others.
Back to News