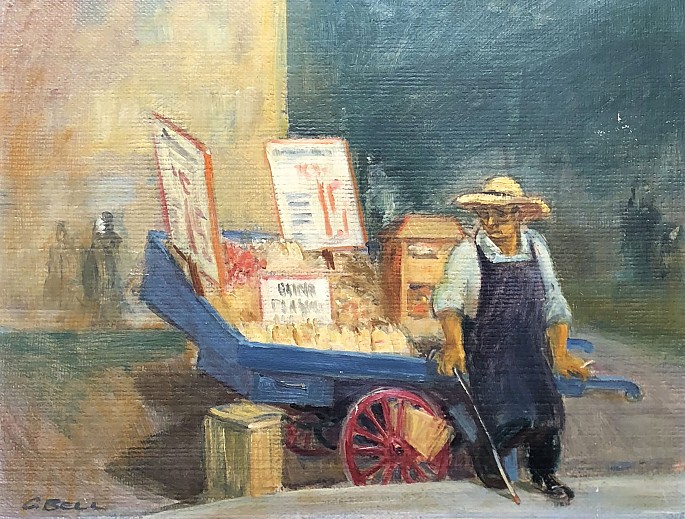 In Depth: Cecil Bell
May 21, 2019
Cecil Bell (American, 1906-1970)
Cecil Bell was born in Seattle, Washington in 1906, and he later moved to Staten Island New York. It was in New York City where he found the inspiration for his work, the city and it's people, focusing on daily life as his subject.

He studied at the Art Institute of Chicago and the Arts Student League with John Sloan, a member of a group of painters known as The Eight. The group, and by association Bell, formed the basis of the Aschan School, which was composed of a group of early 20th century Realist artists, who distanced themselves from the earlier styles of American Impressionism and academics by attempting to bring art into closer touch with everyday life. They concentrated on portraying New York's vitality and recording it's seamy side, keeping a keen eye on current events and their era's social and political rhetoric. Stylistically, their work, though varied, depended upon a darker palette and more gestural brushwork.

Largely unknown during his lifetime, a post-humous retrospective of Bell's work was held at the Museum of Modern Art, New York in 1973.

Many of his works are held in the public collections, some of which include the Museum of the City of New York, the National Gallery of Art, the Butler Institute of American Art, and the Whitney Museum of American Art.
Cecil Bell (American, 1906-1970)
Blind Peanut Vendor, 1958
Oil on Panel
14 x 18 inches


Cecil Bell (American, 1906-1970)
Snow and Gray Sky with Rusty
Oil on Panel
10 x 14 inches
Back to News