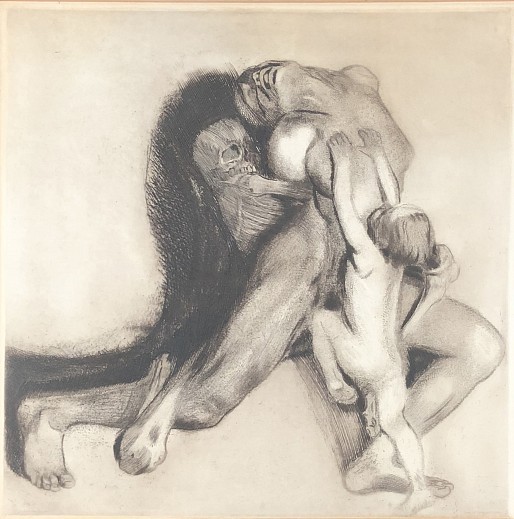 A Closer Look: Kathe Kollwitz and Yvonne Canu
May 21, 2019
A Closer Look: Two Historically Impactful Artists
Kathe Schmidt Kollwitz (Prussian/German, 1867-1945)
Tod and Frau (Death and the Woman), 1910
Engraving, 17 1/4 x 17 1/4 inches


Kaethe Kollwitz was born in Koenigsberg, East Prussia in 1867. The family name was Schmidt, and they were cultivated, middle class people who considered a talent to be a duty. Her art education began in 1881; she began studying with Rudolph Mauer, a local engraver. At seventeen, she enrolled in the School for Women Artists in Berlin. Her early studies, which reveal a developing social consciousess, depicted workers engaged in manual labor. In 1885, she became engaged to a medical student, Karl Kollwitz, who was also a member of the Social Democratic Party. Over the next fifty years, her husband's practice exposed her to an even wider range of suffering and tragedy.


Kollwitz first studied etching in 1889-90 in Munich, the artistic center of 19th century Germany. She was greatly influenced at the time by Max Klinger's imaginative etchings. She was impervious to contemporaries such as Cezanne, Picasso, Matisee, and Emil Nolde. She pursued an art aimed at voicing the suffering of the people. She remained, throughout her distinguished career as a graphic artist, outside a political party.


She was well-known by the time she was thirty. Her final years were not happy, however, for her life was completely disrupted by the fascism sweeping Germany in the late 1930s. After the Gestapo threatened her with arrest, she wore a vial of poison around her neck. She was forbidden to teach and her works, placed on a list of degenerate art, were banned from exhibition. Her son Peter died in Flanders during World War I; she was struck to the bone and used the occasion for one of her most moving protests against war.


During World War II she was evacuated to Moritzburg, near Dresden. In 1943 a bomb fell on her home in Berlin, destroying early paintings, prints and plates. In April 1945, only a few days before the Armistice, Kollwitz died. She was seventy-eight.


Today the street on which Kollwitz lived in Berlin has been renamed in her honor and a park graces the spot where her house once stood.
Yvonne Canu (French, 1921-2008)
Le Petite Port
Oil on Canvas, 10 3/4 x 13 3/4 inches

Yvonne Canu, born in 1921 was a French painter and followed the influences of the pointillists such as Georges Seurat. Particularly it has been noted that she was strongly influenced by Seurat's masterpiece L'ile de la Grande Jatte (A Sunday Afternoon on the Island of Grande Jatte.)

She belongs to an interesting trend of French twentieth-century artists who looked to and expanded upon the theories of so-called divisioniste* artists of the late 19th century. Canu's analysis of colour hence follows many of the same trends and focuses on the mixture of primary, secondary, and tertiary tones on the palette and on the canvas.

She studied at the Ecole des Arts Decoratifs* in Paris and gained most acknowledgment for her work after the Second World War. Her work often depicts coastal and harbour scenes.
Back to News