BIOGRAPHY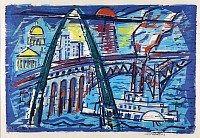 Werner Drewes (German/American 1899-1985)
Born July 27, 1899, in Canig, Germany, Werner Drewes studied architecture in Berlin and design in Stuttgart before beginning study at the Bauhaus in 1921 (located first in Weimar, then in Dessau, Germany). There he underwent courses of study with Klee and Kandinsky, with a four-year break for world travel.
After immigrating to New York in 1930, Drewes became a key disseminator of Kandinsky's ideas and aesthetics in America and a founding member of the influential American Abstract Artists group along with Ilya Bolotowsky, Burgoyne Diller, and George L. K. Morris.
Throughout the 1930s, Drewes painted both in the abstract manner of Kandinsky and in a style influenced by Cubism. In 1934, Drewes met Katherine Dreier, founder of the Société Anonyme, a circle for sharing ideas about avant-garde art among European and American artists. She became a friend and significant patron who collected his work and included him in exhibitions that she organized. In addition to exhibiting regularly at New York galleries, from 1934-36 he taught drawing and printmaking at the Brooklyn Museum, under the auspices of the Federal Art Project. From 1937-1940 he also taught drawing and printmaking at Columbia University.
An accomplished printmaker, Drewes served as director of the Works Progress Administration Graphic Arts Division in New York City from 1940 to 1941. In 1946, Drewes moved to St. Louis to accept a tenured professorship of design at the School of Fine Arts at Washington University. After twenty years of teaching, he moved to Pennsylvania; in 1972, he moved to Reston, Virginia, where he lived until his death in 1985.