BIOGRAPHY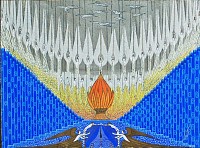 Romain de Tirtoff Erte (Russian/French 1892-1990)
Erte was born Romain de Tirtoff in 1892, in St. Petersburg, Russia, and is primarily known as an influential fashion illustrator and designer.

Erte began his fashion career at age six when his mother had a dress made from one of his first sketches. He left for Paris at the age of nineteen to pursue his career in the arts. The name Erte came into existence during these early days in Paris. Romain de Tirtoff was shortened to the acronym RT and, as pronounced in both French and Russian, became Erte.

His first assignment was to create costumes for the notorious Mata Hari; later he designed clothes for fashionable society women, movie stars such as Joan Crawford and Norma Shearer, sets for Hollywood films, and sets and costumes for the Follies Bergeres and the Paris Opera.

With the onset of World War I in Europe, many of the great fashion houses shut down and Erte was forced to turn to other design avenues. In 1915, Harper's Bazaar published his first cover design, launching his 22 year career with the magazine. His magazine covers helped to set the style that came to be known as Art Deco. His illustrations not only graced the covers, but filled the pages of the magazine as well. During these years, theatrical design consumed much of Erte's creative energy, including a brief stint in Hollywood with the MGM studio.

In the late sixties, the Metropolitan Museum of Art purchased an entire collection of 179 works from Erte's exhibition in New York.

At age 88, he began his work in bronze sculpture. Erte's artistic career continued until his death in 1990.