BIOGRAPHY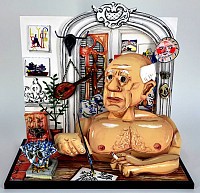 Red Grooms (American b. 1937)
Born in Nashville, Tennessee, Red Grooms is known for whimsical sculptural tableaux and paintings, especially with circus themes. He works with all kinds of materials including paper, plaster, wood, found objects, and cardboard. About his work, he said he has "a giddy sense of reality."

He studied at the School of the Art Institute of Chicago, the George Peabody College for Teachers in Nashville, and the New School of Social Research in New York. In Provincetown, Massachusetts, he was a student of Abstract Expressionist Hans Hoffman.

In New York, he was a participant in "Happenings" or performance art, along with Jim Dine, Allan Kaprow, and Claes Oldenburg. For Grooms, this activity was an outgrowth of his interest in the pageantry of the circus, something that has intrigued him throughout his life.

A successful full-time artist and resident of New York City, he has held visiting professorships in several universities.

In 1999, he completed his largest project, which was The Tennessee Foxtrot Carousel in full scale in his home town of Nashville's Riverfront Park near the Grand Ole Opry House. The piece is decorated with scenes from Nashville's history and includes sculpted seats, painted dioramas and heroic figures such as Andrew Jackson and Davey Crockett.