BIOGRAPHY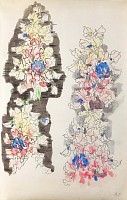 Raoul Dufy (French, 1877-1953)
Born in Le Havre, Raoul Dufy went to work as a clerk in a coffee-importing firm when he was only fourteen and, a year later, started to attend evening classes at the municipal art school. In 1900 he moved to Paris and signed up at the Ecole Nationale des Beaux-Arts, in the class of Léon Bonnat. Until then mostly interested in the work of van Gogh and the Impressionists, Dufy was converted to Fauvism by the works exhibited at the legendary 1905 Salon d'Automne by Matisse, Manguin, Dérain, Vlaminck, van Dongen -- but not for long. While living with Braque at L'Estaque in 1908 he developed a more restrained color range and a stricter spatial composition that showed the influence of Cézanne.
His travels took him repeatedly away from Paris to the South of France, to Italy and Morocco. In 1950, he visited Boton (where he was given cortisone treatment for arthritis). The American scene captured his fancy and he painted racetracks, views of the Charles River and, in New York, the crowds and skyscrapers.
Up to the time of his death, Dufy continue to execute successive variations of his favorite themes such as the beaches of Normandy, sailboats, homages to Mozart, race tracks, brass bands, and orchestras. He would pick out and accentuate a few precise details, such a balustrade, a violin bow, the hull of a ship, or the curve of a shell, and of these elements make his trade-mark.
Perhaps the most outstanding of Dufy's points of originality is his prodigious draughtsmanship. He put infinite imagination into his drawings, using the whites of his paper with great skill and knowledge. In fact, in looking at his sketches one is astonished to find that what pleases so much is what has been left out. A few chairs, a few spots for the spectators, a few players suffice to suggest a crowd.
Dufy's work, in graphite, India ink, oil or watercolor, with its precise, rapid, staccato signs, has often been compared to shorthand. But there is nothing stereotyped in Dufy's work, which, although it does show a few more or less fixed signs in the manner of the Japanese artists, has been perpetually enriched and modified by constant observation of the visible world. In his remarkable drawing, through a multiplicity of squares, rectangles, triangles, ovals, ideograms of every sort, the charm of a vision is composed and presented. Everything has a contour, a rhythm – "everything is art, nothing is really Nature".
Dufy did not give a thought to fame, but at the end of his life he was overwhelmed by the recognition that came to him from practically all over the world. He lived to see the great retrospective exhibition of his work held in Geneva in 1952. The posthumous Paris exhibition, in the summer of 1954, showed the importance and fecundity of his work.