BIOGRAPHY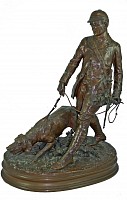 Pierre Julies Mene (French 1810-1879)

Pierre Jules Mene, (P. J. Mene), was born in Paris in March of 1810 and died in Paris at number 9 Rue de L'Entrepot on May 21, 1879. The son of a metal turner, he received his earliest teaching on sculpture and foundry work from his father, and he opened his own foundry in the 1850s, creating lost-wax castings of his sculptures in bronze. Although mostly self-taught, Mene was encouraged by sculptor Rene Compaire, and was also influenced by two painters: Edwin Landseer of England with his expressive sentimentality, as well as Carle Vernet of France, in capturing spirit, grace and compositional beauty in sculptural form.
Much of Mene's early studies were made at the "Jardin des Plantes" in Paris, where he developed great talent for animal sculpture. He first exhibited the bronze statuette entitled Dog and Fox at the Paris Salon in 1838, and from that time exhibited regularly until his death. He received four awards from the Paris Salon: Second Class in 1848, First Class in 1852 and 1861, and a Third Class award in 1855. Mene did not sculpt statues, but rather bronze statuettes generally of domestic and farm animals at rest, (horses, dogs, cows, bulls, sheep and goats). He modeled over 150 subjects, and received the "Cross of the Legion of Honor" in 1861. He exhibited in England at the Great Expositions of 1855, 1867 and 1878, where he was praised as the "Landseer" of sculpture.

P. J. Mene was one of the most prolific and popular sculptors of the Animalier School, as well as one of it's earliest pioneers. His sculptures were widely collected by the public. His only sculpture acquired by the State of France during his lifetime was the bronze Mounted Huntsman and His Hounds. Charming and charismatic, Mene was accepted socially within the various French artistic communities.

Mene's earliest works, (such as Tiger and Alligator), reflected Antoine-Louis Barye's influence, but in contrast with the romantic style of Barye, Mene's style evolved in a contrasting way. He excelled in realistic portrayals of animals, sculpting each in their natural habitat, capturing fleeting movements and delicate details. Generally, his sculptures were portraits with a hint of human personality. Mene was praised for his "perfection in modeling the figures of animals, and for the truth and beauty of his representations." He worked in the Juste Milieu, blending romantic and naturalist elements while retaining a degree of traditionalism.

Mene's casts were of the highest quality and patinas. The last cast of an addition was edited as sharply as the first, and he was meticulous in the after work of his bronze casts, chiseling extremely fine details. His bronzes were signed in block letters "P. J. Mene" with no foundry marks. He taught his son-in-law, Auguste Cain, who continued Mene's foundries from 1879 to 1892. Subsequently, Mene's models were sold to the Susse Freres Foundry which cast well into the 20th century. Many recasts have been produced.