BIOGRAPHY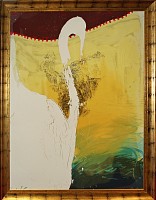 Julian Schnabel (American b. 1951)
Julian Schnabel began his artistic career in the late 1970s and was part of a contingent of 1980s artists including Jean-Michel Basquiat and David Salle who endeavored to restore painting to its pre-abstraction status. Their style permitted expressivity, even exuberance, and, in contrast to the pervasive intellectualism of Minimalist and Conceptualist art of the time, balanced technical concerns with emotional resonance. As a Neo-Expressionist, Schnabel reintroduced human sentiment to painting and eschewed flatness, heaping materials onto unconventional supports such as black velvet, weathered tarpaulins, and cardboard. In addition to painting, Schnabel's expansive creative impulse led him to branch out into music, photography, and film. Schnabel has received widespread critical acclaim for work as the director of Basquiat, Before Night Falls, and The Diving Bell and the Butterfly, among other productions, although he identifies himself as a painter first and foremost.
Emerging on the heels of Minimalism and Conceptual art, Schnabel's near-mania for excess was, in itself, a potent declaration of his iconoclastic intent. His works, heavily laden not only with emotion - often there is an edge of brutal expressivity - but also quite literally with highly unconventional materials, are his manifestoes. Constructed on irregular supports like black velvet and aged tarpaulins, the lavish chaos of Schnabel's collage-like paintings is in itself a rejection of Minimalist asceticism, a true turning point for painting.
Schnabel arrived on the New York art scene with a precocious vengeance. He acquired almost immediate renown for his outlandish behavior, outspokenness, and egotism. Reviled by some and encouraged, even adored, by others, Schnabel seemed to be reinstituting the cult of the bohemian artist as a means of shameless self-promotion. Critics contended that his work was judged less on its potential merit than on the artist's larger-than-life, charismatic, and idiosyncratic persona.
Schnabel's work frequently features religious and, in particular, Catholic iconography and themes. His youthful engagement with Mexican culture and Meso-American religious practice when his family lived quite close to the Mexican border in Texas persisted as a lifelong fixation, which is reflected in his art. Introducing oblique religious themes in his work was a means by which Schnabel could not only infuse his paintings with meaning, but also, on a more fundamental level, connect with art history, albeit in an often satirical way.