BIOGRAPHY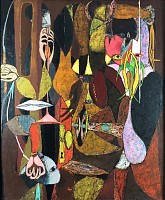 Fred Conway, American (1900-1973)
A member of the faculty of the Washington University Art School from 1929 to 1970, Frederick Conway was a painter, educator, and lecturer. When Max Beckmann was in residence at Washington University, Conway and he became close associates. Conway was one of the first to realize the importance and seriousness of Beckmann's teaching, and Beckmann painted Conway's portrait in 1949.
He was born in Saint Louis, Missouri and studied at the Saint Louis School of Fine Arts and in Paris at the Academie Julian, the Academy Moderne, and the Academy grande Chaumiere.
He has done murals for the WPA (Works Progress Administration) and exhibited widely including at the Art Institute of Chicago, the Kansas City Art Institute, and the Corcoran Gallery in Washington DC.