BIOGRAPHY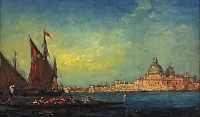 Felix Francois Georges Philibert Ziem (1821-1911)
Felix Francois Georges Philibert Ziem (1821-1911) was born in Beaune, France, on the Cote d'Or, in the heart of Burgundy, to a Croatian father and Burgundian mother. He studied at the Ecole d'Architecture de Dijon and for a time was a practicing architect. However, along with painters Guardi and Canaletto, it is the city of Venice to which his name is most closely linked. Venice is the subject of his finest paintings, and composer Frederic Chopin referred to the city as Ziem's spiritual home. Ziem was well-traveled, visiting Algiers, Austria, Belgium, Constantinople, Egypt, England, Greece, Holland, Russia, and Turkey, but it was to Venice that he repeatedly returned.

He was an active participant in the Paris Salons from 1849 on, and made frequent trips to Barbizon, where he lived in a small circus caravan while painting. After 1888 his paintings show the influence of the Barbizon School's naturalistic approach, a greater attention to atmosphere and an increasingly impressionist style. Ziem owned houses in Venice, Martigues, Nice (where he wintered), and on rue Lepic in Paris. Among his students was the young English Princess Victoria, later queen of Britain. Ziem assisted less fortunate artists and established charities, among them an asylum for the blind.

He was the recipient of many awards and honors and was made a Chevalier of the Legion of Honor in 1857 and an Officer of that order in 1878. On his death Ziem bequeathed to the city of Paris a number of studies and drawings from his studio. His paintings are found in museum collections throughout Europe as well as in North America.