BIOGRAPHY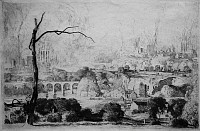 Daniel Garber (American 1880-1958)
Daniel Garber was born in 1880 to a Mennonite farm family near North Manchester, Indiana. In 1897 he left to study art with Vincent Nowottny at the Art Academy of Cincinnati*, Ohio. He went on to study with High Breckenridge at the Darby School* in Fort Washington, Pennsylvania, in the summers of 1899 and 1900. Between 1899 and 1905, Garber enrolled at the Pennsylvania Academy of Fine Arts* in Philadelphia, Pennsylvania, where he studied with William Merritt Chase, Julian Alden Weir and Cecilia Beaux.

He was awarded a Cresson Traveling Fellowship* to England, France, and Italy between 1905-1907. In 1909 he returned to the Pennsylvanian Academy of Fine Arts* as a member of the faculty. He taught painting and drawing there for the next 41 years, and was notorious for his high expectations of his students.

Garber illustrated books and magazines, including the collected works of Theodore Roosevelt. He was also a printmaker and was awarded several solo exhibitions of his drawings, etchings and prints. He began to receive national prominence for his paintings after winning the Hallgarten Prize* from the National Academy of Design in 1909. He was elected Academician of the National Academy in 1913.

Known as one of the most original of the Pennsylvania Impressionists*, Garber depicted the quarries, woods and Delaware River valley of Bucks County, Pennsylvania, and the Lambertville and Lumberville areas of New Jersey. He painted large plein-aire* landscapes conceived in two quite different but overlapping modes that appear to have evolved simultaneously. The first is depicted realistically, showing evidence of human occupation on the land. Concern for the subtle nuances of shape and detail emanate from the painting with an almost radiant glow.

It is with his other mode however, that he formed his signature style: highly decorative, with trees constructed in a stitch-like pattern and woven throughout the composition. In these paintings the artist often departs from the traditional, panoramic format of the landscape painting, employing square, or nearly square, painting dimensions.

Art historian William Gerdts believes that Garber's two modes exemplify the primary directions that American Post-Impressionist* painting took in the second decade of the 20th century, making the artist's position quite significant in the development of Modernism.

Garber was granted 29 major prizes and medals for his painting during his lifetime. He was a member of the American Institute of Arts and Letters* and was elected to both the Salmagundi Club* and the National Arts Club*.

He died in 1958 at his home, "Cuttalossa," along the banks of the Delaware River in Lumberville, New Jersey.