BIOGRAPHY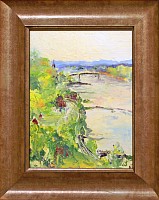 Catherine Mahoney (American/Missouri 20th Century)
Catherine Mahoney has been an artist all her life. Well just about. While she considers 1966 to be the year she started her career as an artist, she admitted she was interested in art when she was just four years old. She still has a treasured art table her father made for her. Embedded in it is a pencil drawing Catherine drew of her dad wearing his bib overalls, which was influenced by watching him walk from the barn to the house on their farm.
Catherine recalls one hot day when her mother placed a glass of water, a paintbrush and a set of watercolor paints next to Catherine and told her to dip the brush in the water and then put the brush into the paints and then onto the paper. "She told me to dip and paint. I still get a thrill watching the water and paint mingling while I work," said Catherine.
Catherine studied art and holds a B.S. in Art Education from Truman University. When Catherine moved to Hermann in the mid-1970s, she met the late Mary Streck, who encouraged Catherine to paint with a group of other local artists. Mary's encouragement got Catherine back to the easel. "The love of watercolor, dating back to my childhood, had returned thanks to Mary's determination to include me with the other artists," explained Catherine. The artists later formed the Wharf Street Artists organization.
Since coming to Hermann, Catherine has been involved in the Hermann Arts Council and the Artists of Wine Country and in schools as an art instructor and substitute teacher. She is well known for her interests in furthering the arts of Hermann's area youth by conducting Colorful Brushes Student Summertime Art Workshops and the "Young At Art" Student Art Shows since 1988.
Catherine's most recent venture is illustrating a children's book that was written by Kathy Meyer of Hermann. For two years, Catherine has painted more than 30 illustrations that will be included in the book "Daisy & Digger", which was published in the fall of 2006.
Catherine's works have gained consistent acceptance in juried exhibitions throughout the country. She is a signature member of the Watercolor Honor Society, Missouri Watercolor Society and Texas Watercolor Society and is published in "Best of Watercolor: Painting Texture". She is also a Best of Missouri Hands artist.