BIOGRAPHY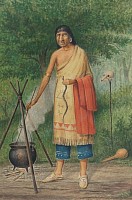 Cassilly Adams, American (1843-1921)
A painter of western frontier life, Cassilly Adams is best remembered for his epic work, Custer's Last Fight, 9 and 1/2 feet by 16 feet, 5 inches, and completed in 1885. The copyright to this particular painting was obtained by the Anheuser- Busch Brewing Company, which made and circulated thousands of reproductions. Because Adams did most of his work for book publishers who did not credit him, he was a relatively unknown artist during his lifetime.
He was born in Zanesville, Ohio and was a descendant of American founding father, John Adams. He studied at the Boston Academy of Arts with Thomas Noble and later at the Cincinnati Art School. During the Civil War, he was in the army and was wounded at the Battle of Vicksburg.
In the 1870s, he moved to St. Louis where he worked for an engraver and did fine art painting including Custer's Last Fight, which took one year to paint and which the St. Louis Art Club exhibited around the country, charging admission. For models, he posed Sioux Indians in actual dress and cavalrymen in uniforms. In 1895, the brewery gave the painting to the 7th Cavalry, and it was destroyed in a fire at Fort Bliss, Texas in 1946.
He died in 1921 at Trader's Point near Indianapolis, Indiana.