BIOGRAPHY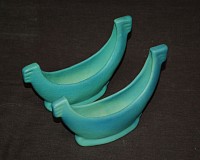 Artus Van Briggle (American 1869-1904)
The son of a Holland Dutch immigrant, Artus Van Briggle demonstrated at an early age an interest in graphic arts. He attended the Academy of Art in Cincinnati, and then worked with Karl Langenbeck in 1886 at Avon Pottery. From there he went on to join Rookwood pottery in 1887.

He attended Julian Academy and then the Fine Arts in Paris 1893. He traveled to Italy in 1894 where he studied art, and then returned to Cincinnati in 1896.

Because of poor health, Van Briggle moved to Colorado in 1899, where he began to produce pottery in Colorado Springs. He and his wife, Anne Lawrence Gregory, also an accomplished artist, began a tradition of making fine pottery, and they became especially known for their Art Nouveau designs and satin matte glazes. He was especially known for a turquoise blue color that he used. The company they founded, Van Briggle Pottery, became a well-known American art pottery.

Van Briggle's works were shown at the Paris Salon, the Saint Louis Exhibition, the Lewis and Clark Centennial, and the Arts & Crafts Exhibition in Boston.

Artus Van Briggle's life was sadly cut short when, in 1904 at the age of 35, he succumbed to tuberculosis.

After his death, Anne continued until 1912 the work they had begun together. Examples of Van Briggle pottery can be seen in permanent collections of the Metropolitan Museum in New York , the Smithsonian Institution in Washington D.C. , The British Museum in London , and at the Louvre in Paris .