BIOGRAPHY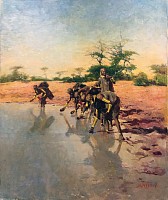 Arthur August Jansson (American 1890-1960)
Trained at the Art Students League in New York from 1909 to 1912, as well as at the New York Industrial Arts School and the School of Modern Methods in Chicago, Jansson served as a background painter for dioramas in the American Museum of Natural History Hall of Asian Mammals, the Akeley Hall of African Mammals, and the Birds of the World Hall.

Jansson accompanied Carl Akeley on Akeley's final expedition to Africa in 1926 to gather field sketches for the dioramas in the African Hall. A. A. Jansson was the one who suggested to Akeley that W. R. Leigh (William Robinson Leigh) be hired as the second artist for the expedition. Jansson had earlier in his career studied art with Leigh.

Jansson also completed diorama backgrounds for the Academy of Natural Sciences in Philadelphia and the Smithsonian's National Museum of Natural History in Washington, D.C.